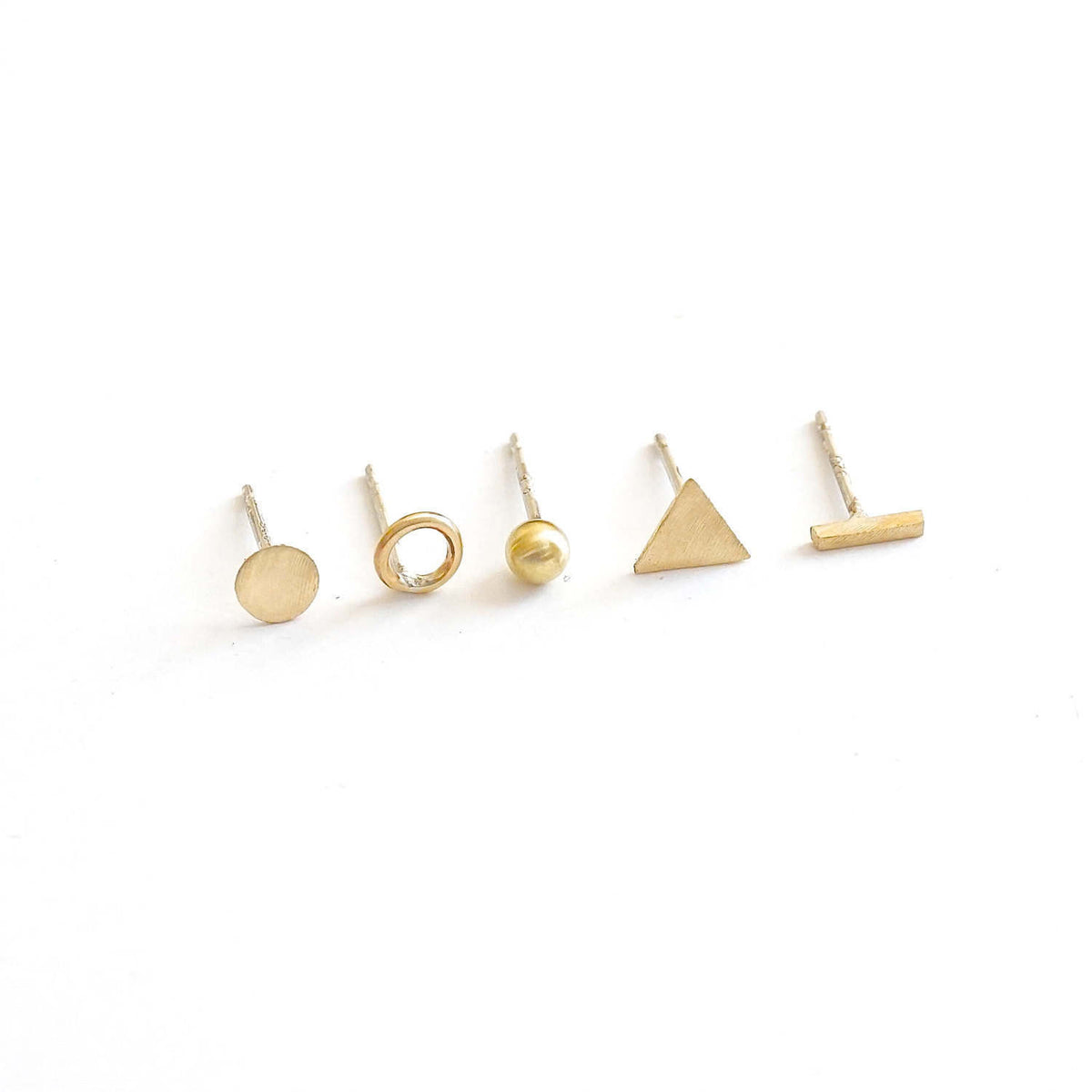 Hand-Made Set Five Mismatched Stud Earrings - 0272
Master the art of mixing with this set of five mismatched but completely complementary studs.
Here's what Our Customers have to say:
"LOVE these! Beautifully made, exactly what I was looking for. Wearing them already. Thank you! Great service - highly recommend."
"I'm beyond please, they look exactly how it's advertise. I'm wearing them right now. Thank you for your services!!"
"These are exactly what I needed, a few stand alone studs. They have stood up with daily wear and very minimal care, and my skin hasn't turned green like with cheapy jewelry. Thanks!"
The set comes with a 3mm ball, 4mm open circle stud, a 5mm bar, a 4mm triangle and a 4mm Square. This set can be purchased in both singles or they can come with pairs for all. Try them in any combination—all look good. Earring backs and ear nuts are also solid sterling silver.
Material - Brass, Sterling Silver, & 14k Gold 
Ball 3mm in Diameter
Open Circle is 4mm in Diameter
Bar is 5mm by 1mm
Triangle is 4mm
Flat Circle is 4mm in Diameter
Finish - Matte
Earring Post Length - 10mm
Post Gauge - 20ga
Brass and Sterling Silver Earring Post Material - Sterling Silver
14k Gold Earring Post Material - 14k Gold
Earring Back Style - Butterfly/Scroll
Earring Back Material - Sterling Silver
14k Gold Earring Material - 14k Gold
Packaged in a Kraft Box
Listing is for Singles